Mesh Materials for Disc, Packs and Filter Elements Processing
Stainless Steel Square Hole Wire Mesh, Plain Weave 304 and 316 Series Grade

Plain Weave SS Mesh has equal opening in horizontal and vertical lines. It is woven through each weft wire passing over one and under one warp wire, and each warp wire passing over one and under one weft wire. The weft wire and warp wire applied in weaving have the same diameter.
Features and benefits of SS Mesh Plain Weave when used as filter media: Square aperture, high flow through, relative high open area, less pressure drop during filtration. Suitable for all kinds of filtration up to 63 µm.
Processing Forms: Discs, pack screen, tubes and other elements.
Micro Square Opening Wire Mesh of Plain Woven in Stainless Steel Wire Applied in Filter Elements Processing: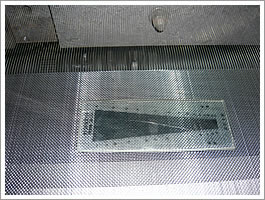 Common Specifications:
Mesh/Inch
Wire Diameter
Aperture
Open Area
Weight(LB) /100 Square Foot
Inch
MM
Inch
MM
1x1
.080
2.03
.920
23.37
84.6
41.1
2X2
.063
1.60
.437
11.10
76.4
51.2
3X3
.054
1.37
.279
7.09
70.1
56.7
4X4
.063
1.60
.187
4.75
56.0
104.8
4X4
.047
1.19
.203
5.16
65.9
57.6
5X5
.041
1.04
.159
4.04
63.2
54.9
6X6
.035
.89
.132
3.35
62.7
48.1
8X8
.028
.71
.097
2.46
60.2
41.1
10X10
.025
.64
.075
1.91
56.3
41.2
10X10
.020
.51
.080
2.03
64.0
26.1
12X12
.023
.584
.060
1.52
51.8
42.2
12X12
.020
.508
.063
1.60
57.2
31.6
14X14
.023
.584
.048
1.22
45.2
49.8
14X14
.020
.508
.051
1.30
51.0
37.2
16X16
.018
.457
.0445
1.13
50.7
34.5
18X18
.017
.432
.0386
.98
48.3
34.8
20X20
.020
.508
.0300
.76
36.0
55.2
20X20
.016
.406
.0340
.86
46.2
34.4
24X24
.014
.356
.0277
.70
44.2
31.8
30X30
.013
.330
.0203
.52
37.1
34.8
30X30
.012
.305
.0213
.54
40.8
29.4
30X30
.009
.229
.0243
.62
53.1
16.1
35X35
.011
.279
.0176
.45
37.9
29.0
40X40
.010
.254
.0150
.38
36.0
27.6
50X50
.009
.229
.0110
.28
30.3
28.4
50X50
.008
.203
.0120
.31
36.0
22.1
60X60
.0075
.191
.0092
.23
30.5
23.7
60X60
.007
.178
.0097
.25
33.9
20.4
70X70
.0065
.165
.0078
.20
29.8
20.8
80X80
.0065
.165
.0060
.15
23.0
23.2
80X80
.0055
.140
.0070
.18
31.4
16.9
90X90
.005
.127
.0061
.16
30.1
15.8
100X100
.0045
.114
.0055
.14
30.3
14.2
100X100
.004
.102
.0060
.15
36.0
11.0
100X100
.0035
.089
.0065
.17
42.3
8.3
110X110
.0040
.1016
.0051
.1295
30.7
12.4
120X120
.0037
.0940
.0064
.1168
30.7
11.6
150X150
.0026
.0660
.0041
.1041
37.4
7.1
160X160
.0025
.0635
.0038
.0965
36.4
5.94
180X180
.0023
.0584
.0033
.0838
34.7
6.7
200X200
.0021
.0533
.0029
.0737
33.6
6.2
250X250
.0016
.0406
.0024
.0610
36.0
4.4
270X270
.0016
.0406
.0021
.0533
32.2
4.7
300X300
.0051
.0381
.0018
.0457
29.7
3.04
325X325
.0014
.0356
.0017
.0432
30.0
4.40
400X400
.0010
.0254
.0015
.370
36.0
3.3
500X500
.0010
.0254
.0010
.0254
25.0
3.8
635X635
.0008
.0203
.0008
.0203
25.0
2.63