Perforated Mesh, Expanded Metal & Woven Wire Mesh Discs
Single Layer Disc Screen in stainless steel and brass mesh with disc diameter ranging from 1-60 inch
Single-layer disc is in contrast with multi-layer pack screen. The number and the arrangement of welding spots can be produced according to specification requirments. Since single layer disc screen needs simple processing compared with multi-layers, it costs less than pack screens. Processed from mesh cloth (woven mesh or sintered mesh sheet) and sheet metal (perforated sheet or expanded mesh) into circular shapes.
Disc Diameter: 1-60"
Disc shapes: Rectangle, oval, round, square and annular mesh sheets.
Material Options:
Stainless Steel Mesh (SS 304,SS 304L,SS 316,SS 316L);
Copper Mesh (Red copper Mesh,Brass Wire Mesh,Phosphor Bronze Wire Mesh);
Low Carbon Steel Mesh;
Aluminum Mesh.
Application:
Features: Smooth surface with no sharp edges, burrs or acute angles. Anti-abrasive & anti-corrosive in nature, and high filtration capacity. Available in different size and variants according customers order.

Edge: With or Without Framework.

Woven Mesh Filter Media Range:
Wire Diameter:0.025-3.4mm
Aperture Size:0.026-23.4mm
Weave Type:Plain Weave (3-300 Mesh); Twilled Weave(20-635 Mesh); Dutch Weave (7x40mesh-325x2300 mesh)
316L Stainless Steel Dutch Weave Wire Mesh Filter Cloth Discs: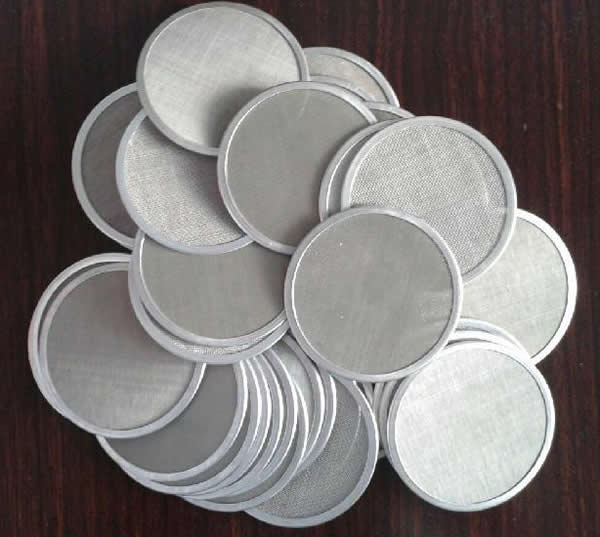 Expanded Mesh Discs of Diamond Opening:

Spot Welded 304 Mesh Cloth Extruder Screen Discs: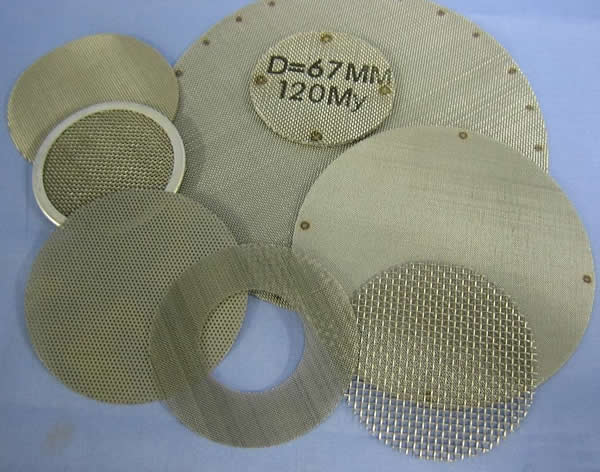 Square Wire Mesh Discs Used as Extruder Screen Replacable in Plastic Processing: