Micron Hole Fine Mesh Cloth Materials
Stainless Steel Wire Cloth, Dutch Weave, 316L Grade, suitable for filter elements pleating layer and pack screen filter layer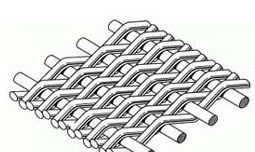 Plain Dutch Weave Wire Mesh is a solid filter cloth offering greater strength than square wire mesh or rectangular mesh. Supplied in 316L grade stainless steel wire materials, Dutch Wir Cloth has all kinds of fabricating forms including discs, packs and pleated mesh filters.

Structures:
Each warp wire and weft wire passes over and under the next adjacent complementary wire, as in normal Plain Weave, except the warp wires are larger in diameter than the weft wires. This allows a greater mesh count in the weft direction.
Dutch Wire Cloth enjoying the following features:
"zero"—aperture, more solid than square or rectangular mesh, relative high open area, suitable for all kinds of filtration.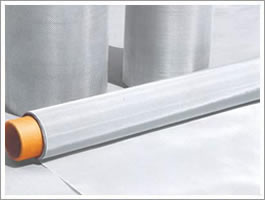 Mesh Count
Warp x Weft
Wire Dia mm
Warp x Weft
Wire Dia inch
Warp x Weft
Micron
Rating
8 x 85
0.360 x 0.320
0.0140 x 0.0125
320-340
12 x 64
0.580 x 0.420
0.0230 x 0.0165
265-285
14 x 88
0.500 x 0.350
0.0200 x 0.0140
215-235
24 x 100
0.350 x 0.250
0.0140 x 0.0100
115-125
30 x 150
0.230 x 0.180
0.0090 x 0.0071
95-100
40 x 200
0.180 x 0.140
0.0070 x 0.0055
70-75
50 x 250
0.140 x 0.114
0.0055 x 0.0045
55-60
80 x 400
0.125 x 0.071
0.0050 x 0.0028
40-45
Products