Metal Filter Basket Elements - Perforated Tubes with Handles
Perforated steel metal screen Basket strainers to support soft mesh fabric filter elements
Strainer Stainless Steel Filter Basket of Perforated Sheet Tube and Inner Woven Wire Cloth: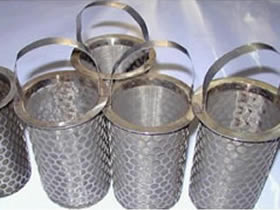 Made of perforated metal screen, the metal basket filter is mainly applied in food and beverage and water treatment industries. Owing to the support of perforated plate, these kinds of products have higher strength, and they are easy to backwash.
Stainless steel or steel perforated metal baskets can be used alone as a strainer or be used to support a soft wire cloth fabric filter. The basket strainer is available with the following diameter openings : 9/64" (standard), 1/4", 3/16"or 1/16".
Wire mesh baskets are available in the following mesh sizes: 20, 30, 40, 50, 60, 70, 80, 100, 150 or 200.
The basket strainers are available in the following twill size (micron) : 325 x 2300 (2 micron), 200 x 1400 (5 micron), 165 x 800 (10 micron) and 200 x 600 (20 micron).
Perforated Mesh with Micron Round Opening, Stainless Steel Welded Tube Baskets: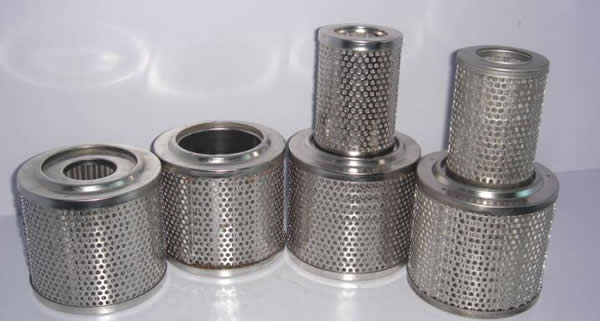 Carbon Steel Perforated Filter Elements: